NEWS PAGE
29th September 2014: Another new short story, Diamonds On The Soles Of Her Shoes, begins today. This one is in two parts, features Verneen Halannim, and can be found here.
17th August 2014: a new short story, just for those who are shy of jumping into the longer works. The Boy In The Bubble is a slice of Tollain Kintarsh's early life, and can be found here.
25th May 2014: a new story starts today on the Episodes/Plays page. It stars Suncat, Kaichang and Verneen, the Truesingers, who made their debut in "Loose Threads," a story you'll find in my collection Three Windows, out now from Lulu. In this new tale, they're united with the other half of the band they were destined to form, Gestalt, but the union is far from harmonious; tensions between the various members threaten to tear the band apart before it's properly begun. At this critical juncture, Gestalt find themselves booked to play a concert on Suncat's native world, Argenthome, still in the toils of transitioning to Affiliation with the Sagittarian Accords, and soon will find themselves caught up in political violence, complicated by a long shadow out of Suncat's past. You can read the first two chapters here...
I've had a flurry of activity, and Tetrad and Oonaverse are now available as your actual printed-type books!
You can also find an omnibus edition of my first two books, Three Windows and Two Magicians, under the catchy title of Three and Two: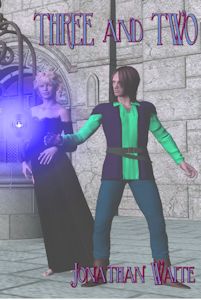 This is the beginning of a long-term project to reissue all our books currently available on Lulu with ISBNs, which will mean that (subject to approval) they will be available through Amazon, Barnes and Noble, and other legitimate outlets. However, this will mean that Amazon etc get most of the money from selling them (I'm talking about roughly twenty-five times as much as we'll get) so I would ask friends of the site to buy the books through Lulu if they possibly can, or from us direct if we have physical copies on hand.
Tetrad and Oonaverse are also available as ebooks from Lulu, and others will hopefully follow, but friends of Avevale will still be able to get them from me for free. The other versions are strictly for the Amazon trade. (Not that I'd be at all disappointed if friends bought them anyway...)
A new edition of Two Magicians on its own is also out, and The Eight-Man Austin (the first Nyrond story to be published) is in preparation. The Lost Goats and The Overly Obnoxious OIK Operation will follow in due course, as will the entirety of the Mershane Chronicles.
And the next story to feature on the Episodes/Plays page will be a new adventure for the Two Magicians themselves, Mordecai del Aguila and Willibald Volebreath, in which a dangerous mission and a dastardly abduction combine to disrupt once again the settled peace of Tamland. Watch for it!
See all the books currently available from Lulu on http://www.lulu.com/spotlight/zander_nyrond!